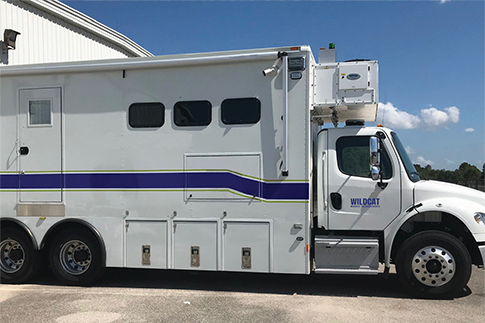 Command and Control Vehicles (MCV)
These Mobile Command Vehicles (MCV) are used in many applications by many different types of operators. Command, Control, and Communications are typical uses for the MCV's Wildcat builds. These self-contained vehicles range in size from small vans up to large semi-trailers with multiple expanding sides. Equipped with Conference Rooms, Workstations, Video Systems, Comm's packages, they come ready to work. Please refer to the following web link to explore a sample vehicle Wildcat offers. Yours can be revised to better suit your requirements:
Emergency Response and Rescue Vehicles
Rapid response and rescue vehicles serve many different roles for various organizations. Natural disasters including weather and fire emergencies, civil unrest, terrorism, power system failures, breakdowns in community infrastructure, and many other situations that arise call for Emergency Response/Rescue Vehicles that bring the support teams to the site of critical need. Sometimes that involves vehicles that move into the zone simply to mobilize people and animals that are in danger. Other times it brings in teams of highly trained persons to provide rescues. There are many organizations that spring into service whenever emergencies arise; these organizations often need a mobile solution to take them and their equipment to the scene. We can assist in the design and build of whatever vehicle solution is required.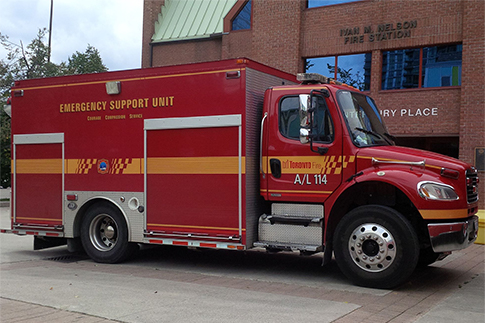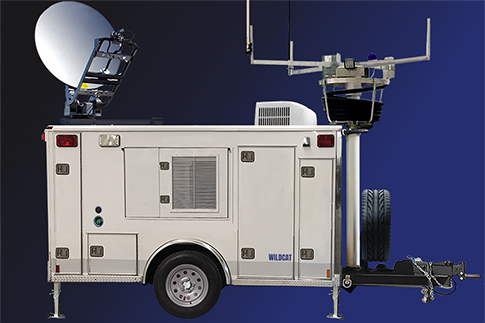 Communications Vehicles
Such vehicles come in several styles and purposes. Some of those applications include mobile Internet Hotspots, Satellite Up/Down Linking, Microwave Transmission, Bonded Cellular, Telecom, and other means of providing Communications for mobile needs. Sometimes these solutions are required when the point of need is remote, and sometimes when the building/facility that normally provides that service is out of service. Sometimes its simply because the local service is swamped by unexpected comm's traffic. Lots of reasons exist, but Wildcat can provide a mobile solution to whatever contingency for which you need to prepare in advance.
Hazmat Response Vehicle
Hazardous chemicals and other contaminants sometimes spill or are otherwise spread onto personnel responding to emergencies and disasters. When that occurs that person must be decontaminated by trained personnel usually operating from a Mobile Hazmat DECON Trailer. These very specialized trailers have on board wash systems which also collects the contaminated liquids for safe disposal. These vehicles are built to accommodate both ambulatory and non-ambulatory personnel. On board systems provide the wash solutions, water, power, lighting, and containment provisions. Such vehicles are common in most cities, airports, military bases,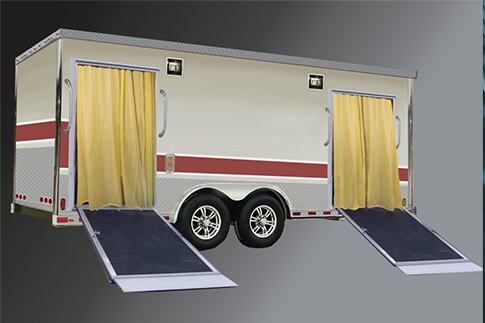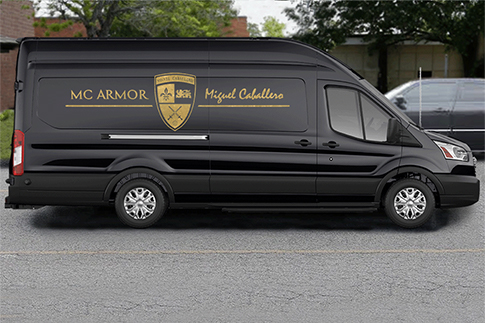 Marketing Demonstration Vehicle
Thousands of companies desire the ability to take their products on the road to demonstrate their particular advantages, plus to provide their prospects a one on one opportunity to become better acquainted with that firm and its offerings. Such exclusive product demonstrations clearly increase sales with many firms reporting breakeven numbers for the vehicle acquisition in one to two years. These vehicles feature on-board ultra quiet power systems, lots of great lighting, product racking/display features, POS terminals, and often incredible vehicle graphics. Wildcat is highly familiar with how these vehicles are utilized and invite customers to contact us for their unique vehicle solution.
Law Enforcement Vehicles
This covers a wide assortment of vehicles used by city, county, state, national and tribal government agencies to include: Hostage Negotiation, Bomb Squad. Crime Scene, Crew Rest & Recovery, Command, Checkpoints, Evidence Collection, and many other vehicles. Each of these specialty vehicles are designed and built to accomplish its primary objective, but Wildcat strives to make them multi-role capable to extend the value of that tool for the agency. We assure the product we deliver is the very best available and will last 15-20 years providing highly reliable service over that entire time. Please reach out to Wildcat for any of your Law Enforcement Vehicle needs.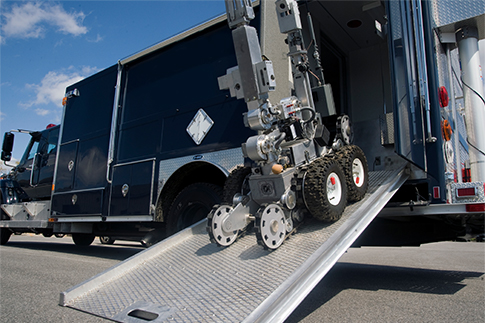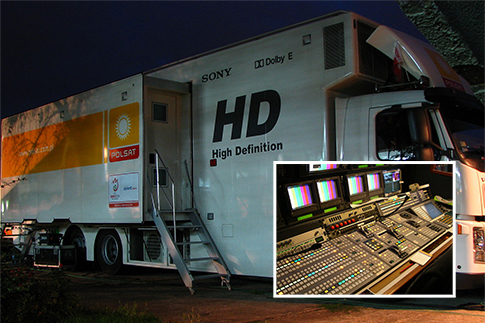 Broadcasting Vehicles
Wildcat aims to focus on building EFP's and OB trucks, vans and trailers for broadcasters around the globe. These vehicles have on board power systems, plenty of hvac, lighting inside and out, consoles, audio rooms, steel equipment racks, tons of storage, and are finished in acoustic dampening products that make the vehicle quiet yet attractive. All the required systems and features required for field television production are included in our standard builds. These Rack Ready vehicles can then be Integrated by the end user or we can arrange that service at nearby SI's with lots of experience in those systems. Wildcat is able to handle the simpler AV integration jobs, but for now, will defer to others for major
integration tasks.
Military Support Vehicles
The military has a tremendous demand for vehicles that serve many different purposes. Wildcat Mobile Technologies builds those vehicles that are not used in a combat role but instead in a "support" role. Our vehicles meet most of the typical military specs, but it is important to distinguish that we build to equivalent standards, not Mil Specs. We have built to some of the toughest specs imaginable, achieving mission objectives for most branches of service. We partner with an organization that provides GSA purchasing paths for government buyers that want to avail themselves to that supply line, or we are happy to propose directly for Open Market opportunities. We are a small business.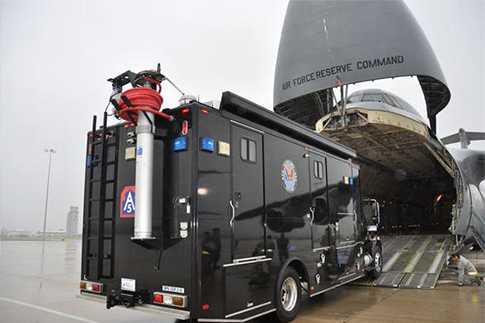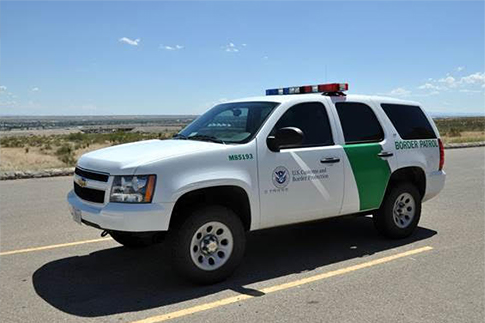 Border Protection Vehicles
DHS and CBP, along with many other agencies are tasked with protecting our borders. They utilize several specialty vehicles to enable teams to monitor the border and its surrounds. Crew transport, transgressor transport, listening posts, crew rest, incident command, and several other special vehicles are used by these agencies. Wildcat is strategically located in south Texas which enables us to provide prompt support for any equipment service needs that may come along. We are also very familiar with the unique needs the agencies have for their equipment. We stand ready to support our government agencies with whatever vehicle needs they may have.
Observation Vehicles
Often working with government and industry customers, Wildcat builds mobile observation vehicles that can be positioned at strategic locations to provide video (and audio) links via WiFi back to central command or to field Command Vehicles. These Observation Vehicles can have cameras that function best in Daylight conditions, or can function in very Low Light conditions, or can function in total darkness using Thermal technology. The video captured can be streamed over the internet live, and/or recorded at the site for later playback (perhaps as evidence). These vehicles can be built to operate in total stealth mode (no sounds no lights) or can be built to operate in minimum detection modes. Some can be driven while deployed, with due care exercised for overhead objects. There are several options available for observation platforms depending on need; simple cameras, to cameras with detection, to cameras that will also track the target. Wildcat stands ready to discuss your unique Observation requirements.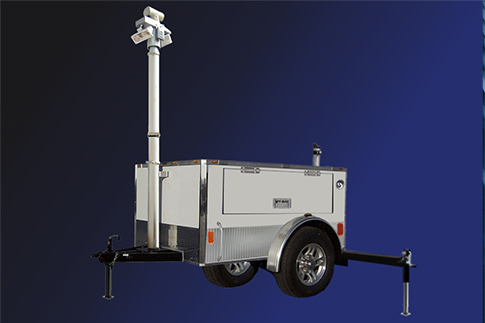 Humanitarian Vehicles
This category covers a wide range of vehicles used for both human and animal support. Bloodmobiles, field medical screening and services vehicles, vet medicine, pet adoption, red cross, church/ministry vehicles, food prep and distribution, bookmobiles, etc. are only some of the miscellaneous vehicles that are built to support field operations. Wildcat is anxious to work with you to develop that custom solution to your mobility needs.