Wildcat Mobile Technologies has leading industry experts that specialize in mobile technology stations. From senior designers to master carpenters and project managers, we have built a team that is not just ready to get the job done, but is committed to exceeding your service expectations. Providing that attention to detail that you've been looking for on Oil and Gas data vans, mobile broadcast units, and military mobile command centers.
INSPECTION AND REPORTS FOR THE FOLLOWING

Trailer Components
DOT lighting
Body Damages
Ladder Damages
Electrical Systems (AC & DC)
Door Hardware / Alignment /
Sealing
Body Damages
Suspension / Brake System
Slide Out System Functionality
4 Post Leveling System
Functionality
Framework for Damage
Rear Bumper Damages
POWER UNIT / FUEL CELL
Clean Radiator Fins /Full PM (Filters/Oil)
Power Load Check (Voltage / Hz) Under load
Inspect exhaust system
Inspect Fuel Cell / Change Fuel Filter
Verify Fuel Level Gauges Operation
INTERIOR
Clean ceiling, floors, & walls
Clean Buff & Polish Countertops
Replace Window Blinds
Replace Wall Heaters x5
Clean Cabinets In/Out
Replace Broken Outlets
Replace Broken Lights
Replace Captains Chairs x2
New Standard Office Chairs x5
Replace Theater Seats x2
Replace Microwave/Coffee
EXTERIOR
Replace Windows
Replace Exterior Work Lights
Replace all Door Seals
Replace Roof Top A/C's x5
Clean Belly Boxes
Replace Slide Out Awning
PAINT
Prep & Paint Exterior One Color (Base/Clear)
Prep & Coat Jockey Boxest
ELECTRICAL SYSTEM
Inspect Ele panels (AC / DC)
Replace Broken Outlets/Switches
Replace Broken Interior
Lights
Verify Load Balance On Panels
SLIDEOUT/LEVELING SYSTEM
Replace Weatherstripping
Clean & Lube all moving parts
Check all hoses and components for leaks
Repair leaks as necessary
TESTING
Unit Run Test (Generator)
Unit Run Test (Full Load Testing)
4-Post System Verification
Slide Out System Operates
Properly
MISCELLANEOUS ITEMS
Replace Fire Extinguishers
Replace Batteries (Gen/Data)
Replace First Aid Kit
Replace broken Hardware
DOT Marker Tape
Replace Co2/Smoke Detector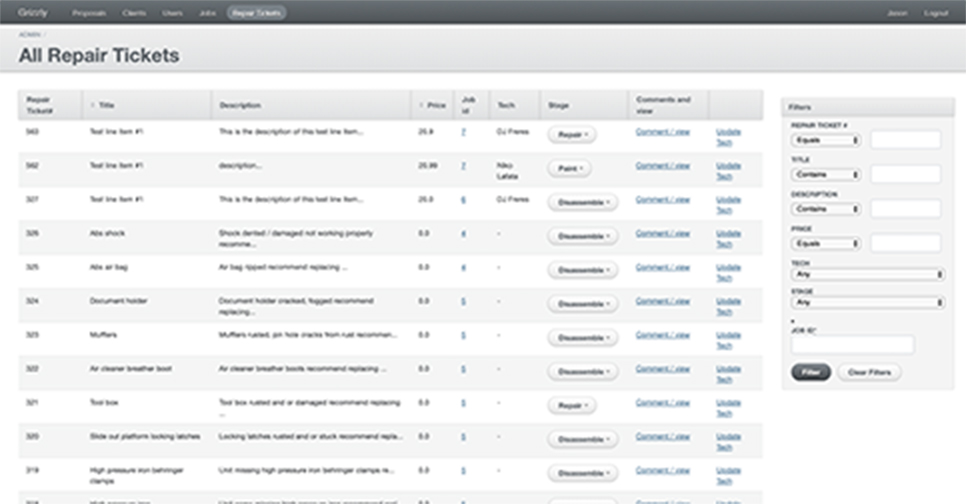 CUSTOMER PORTAL
Upon delivery of your unit to our facility, Wildcat staff will do a full inspection and provide line item recommendations that can be reviewed and approved in our online client portal before any work is completed.